Conditions for a Successful Embryo Culture in IVF
---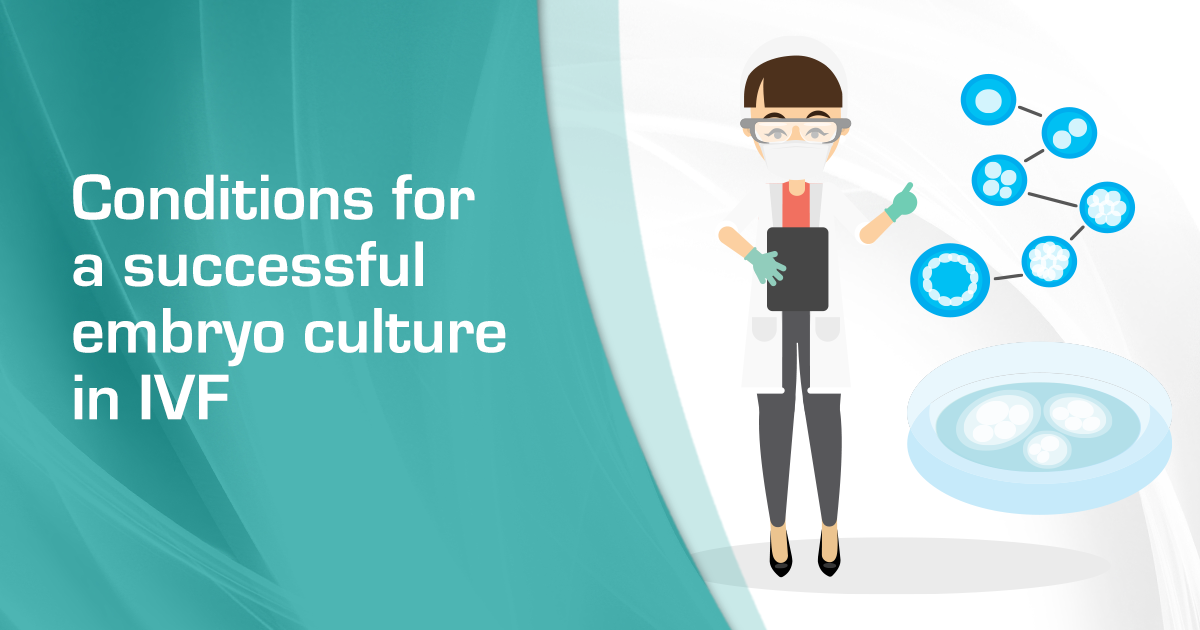 It has been recommended by several researches that a successful embryo culture during In Vitro Fertilization (IVF) cycles is influenced by various factors, and in turn, have an impact on both the implantation and pregnancy rates since embryo quality is likely affected. Furthermore, it is believed that one primary reason why IVF results have tremendously improved the past years is the progression of embryo culture systems.
This leads us to a question: "Would certain embryo culture conditions like media, air quality, incubator and dish types, affect IVF live birth rate and or the general success rate of an IVF procedure?"
The success of embryo culture is multi-factorial. The aspects affecting its quality are briefly described below.
Culture Media Concerns
A culture media is a complex solution that is utilized to support growth of cells. An embryo culture media is specifically developed to imitate the components of the uterine fluids and to mimic the developing embryo's natural environment.
Currently, commercially available culture media contain a variety of components ranging from multiple vitamins and nutrients, and certain growth factors. While the use of these commercially available media is widespread, preparation of in-house, synthetic sequential media are preferred by certain professionals since the manipulation (adding or removing) of certain components is made possible.
Most of the culture media produced by various manufactures are compliant with European Conformity (CE) and Mouse Embryo Assay (MEA) regulations. The CE marking implies full disclosure of the medium chemical components, evaluation of its quality, post-marketing studies, and a system for adverse reactions monitoring and reporting. A MEA marking, on the other hand, means a successful test on ≥80% of mouse embryo development to blastocyst stage. This indicates safety of the media and is an assurance against toxicity concerns.
Impact of a Culture Media
It has been noted that culture media has an effect on the perinatal result (like pregnancy age and birth weight). Some animal researches have linked abnormal fetal growth to certain components of the media. The nutritional compositions of these media have bearing on early embryo development hence crucial to know as it could conceivably affect health of offspring.
Essentials of a Culture Media
The basic aspects of a culture medium include the following:
1. Peptide growth factors:
They are used to promote human embryo development.
2. Protein sources:
Albumin is the most common protein source for human embryo culture. It helps maintain pH buffer function, stabilization of membrane, osmotic pressure and the removal of toxic substances. It also prevents embryos from sticking to the culture dish.
3. Buffering Agents:
These are necessary so that the pH of a culture medium is controlled around the best possible condition for embryo's desired growth. The use of buffer compounds is essential when fermentable carbohydrates are incorporated as additional energy sources.
4. Hyaluronic acid:
Some studies show that such component contributes to higher birth weight especially when used at high concentrations.
The Role of Incubators
IVF incubators are some of the most imperative devices in an IVF laboratory. They are primarily used to monitor the environment and accommodate the growing embryos for their in vitro lifetime. At present, an array of incubators is available in the market, each of which feature certain technological advances expected to augment IVF society's consideration of what necessitates ideal conditions.
Esco Medical's incubators come in different kinds. Multi-room incubators like the MIRI®, MIRI® II, and mini MIRI® (dry and humidified) are revolutionary bench-top incubators in form and functionality for CO2 incubators that are explicitly designed for clinical IVF use. These incubators allow users to access their cultures in one chamber without affecting their neighboring chambers. Therefore, the harmful effects of fluctuations in temperature and gas caused by frequent incubator access are avoided.
The MIRI® TL (time-lapse) is another one-of-a-kind incubator from Esco Medical. Using an advanced approach, the time-lapse technology means that sequential images of the embryos are recorded during culture by use of a digital, inverted microscope. Esco Medical's MIRI® TL is a system with a built-in camera and microscope that allows embryologists to view the development of the embryo from fertilization until the day of transfer without any disturbances. This would significantly reduce the environmental stresses on the embryo when compared to current standard incubation practices. The technology built into the MIRI® TL allows all important events to be observed, this allows embryologists to annotate and choose the best embryos for transfer based on their morphokinetics; aiming to improve embryo traits and pregnancy rates.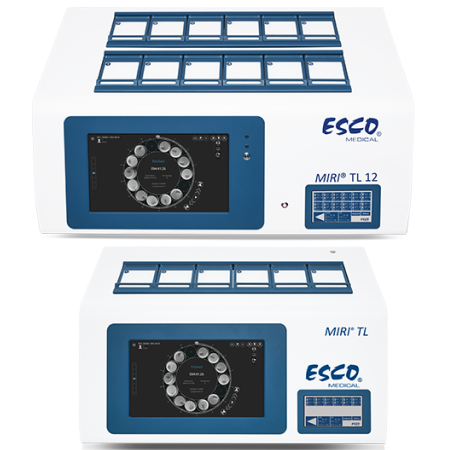 MIRI® Time-Lapse Incubator
Features:
Completely independent chambers

Time-lapse monitoring

Heated lid

Fast temperature and gas recovery

Superior gas system

Easy external gas and temperature validation

User friendly interface

MIRI® TL Data Logger

Continuous pH monitoring

MIRI® TL Viewer software and MIRI® TL Data Server
Use of Culture Dishes
The use of incubators comes with the use of a culture dish. IVF culture dishes serve as containers to hold a desirable medium in which cells can be cultured or grown. Esco Medical's multiroom incubators utilize a variety of culture dishes. However, the MIRI® TL makes use of an IVF culture dish called CultureCoin ®, and is designed specifically for TL incubator use during the IVF process.
The CultureCoin® is a single-use, gamma-sterilized culture dish that has oxygen plasma-treated surfaces for effective prevention of bubble formation. Its ergonomic design makes it easy for embryologists to load a total of 14 embryos while being able to safely and securely handle them inside the incubator. This culture well features a 300µ, optically clear area for embryo placement which is optimized for microscopy. Such dish is ideal in bringing about a safe atmosphere for your IVF process.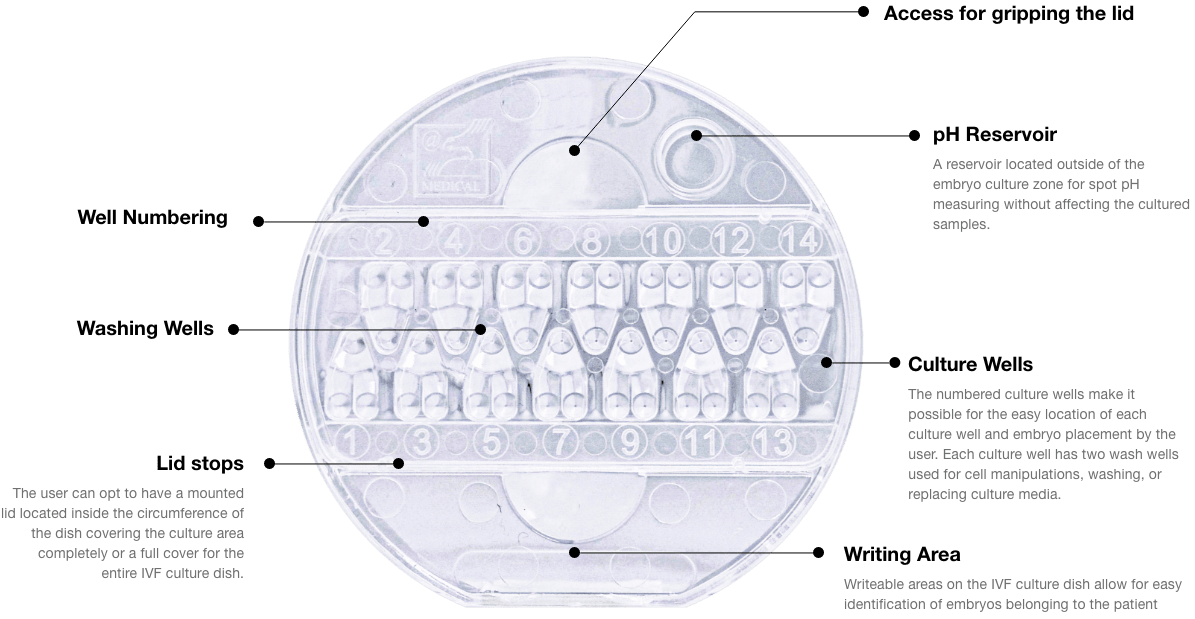 The CultureCoin® has the following key features:
1. Numbered culture wells (1-14):
These allow easy location of each well and embryo placement by the user. Each well has two wash wells used for cell manipulations, washing, or replacing culture media.
2. Optional Lids:
This is a mounted lid located inside the circumference of the dish covering the culture area completely or a full cover for the entire IVF culture dish.
3. A pH reservoir:
This is necessary for spot pH measuring without affecting the cultured samples.
4. Flat bottom:
A unique design of the dish that makes it ideal for consistent temperature transfer from the heated bottom.
5. Writeable area and lid:
This allows easy identification of embryos belonging to the patient.
Other Considerations:
Air Quality in Embryo Culture
The general quality of circulated air in the IVF laboratory is crucial. A notable factor to consider that affects air quality is the pH of the embryo culture. The pH is dependent on the gases that make the incubator's atmosphere. Obtaining optimum gas levels (like oxygen) for embryo culture is essential in order to safeguard the function of the gamete and the development of the embryo. An increased production of certain reactive oxygen species could possibly bring about DNA and protein damage. Presence of volatile organic compounds (VOCs) also affect such air quality hence incubator used should have inline gas filtration systems. (Esco Medical incubators have separate CO2 and O2 regulation and have efficient filtration system wherein the air quality is continuously cleaned by HEPA/VOC filters).
Temperature and Humidity
Embryo metabolism, meiotic functions, and gamete behaviour are believed to be influenced by the temperature range an embryo is exposed to. The concern on ideal temperature is immense. Usually, the temperature for embryo culture is controlled at 37˚C inside an incubator Together with humidity; both contribute to a culture's stability. Correct humidity levels guarantee a meticulous environment concerning the threat of evaporationof an evaporation, which in turn could impact culture osmolality leading to embryo disruption.
Every IVF clinic or laboratory aims at reducing environmentally-induced strain within the IVF laboratory so as to deliver an improved culture system for the development of embryos and to extend the most desirable results of assisted reproductive technology (ART). The methodology of the IVF laboratory concerning culture conditions are always evolving and progressing. Refining conditions and devices, introduction of innovative technologies, are all indispensable for enhancing IVF success rates.
The entire IVF process is delicate and it needs to ensure optimum environmental conditions for the embryos. To ensure this, Esco Medical has produced a product line specially designed to safeguard the developing embryos. Esco Medical is one with the entire IVF and ART profession in continuously developing globally collaborative and purposeful innovations. Together, we have an implausible prospect to utilize technology and innovation to build more all-encompassing and sustainable life sciences tools.