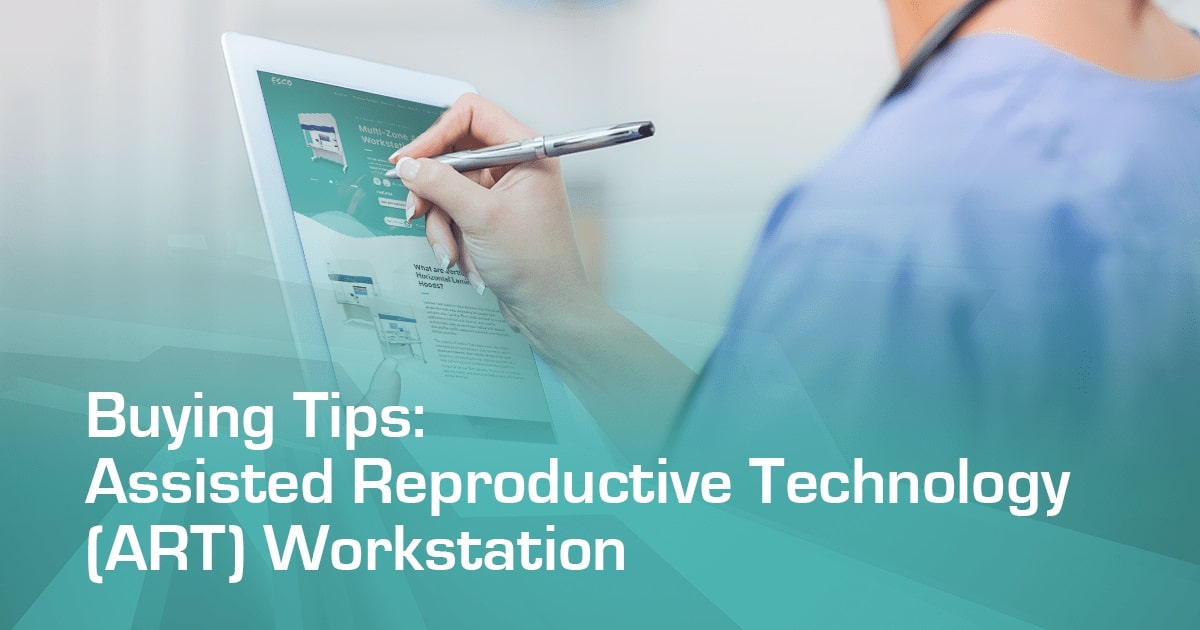 Assisted Reproductive Technology (ART) has advanced over the past 18 to 20 years, and there are now many ART equipment and IVF workstations available on the market that are made expressly for embryo transfer, increasing chances for pregnancy with the aim of resolving global infertility issues.
Much while choosing to use Assisted Reproductive Technology (ART) for a successful pregnancy is a significant decision in and of itself, it calls for even more thought. A lot of ART treatments are conducted in a way that may pose significant legal, practical, and even ethical issues that patients should carefully consider before proceeding.

Overall, it's important to consider a few things first before buying and using an Assisted Reproductive Technology (ART) or IVF Workstation.
Cost
The majority of Assisted Reproductive Technology (ART) techniques can be quite expensive and come with little assurance that they will be successful. It's possible to spend tens of thousands of dollars without ever getting the desired outcomes. Clinics must consider the costs in relation to potential high risks and potential rewards and determine just how much you are willing to spend in order to improve fertility levels.
Type of Assisted Reproductive Technology
Assisted Reproductive Technology (ART) comes in a wide variety of forms, each of which has its own benefits, disadvantages, risks, and open questions. Are you willing to obtain donor eggs or sperm from secret donors? Who will carry the child if a surrogate is being used? Even though you and your spouse will be raising the child, will a known donor have a bond with their biological child?

With the assistance and direction of healthcare specialists, and with the available data, you must carefully select the type of ART treatment that is best for your specific circumstances. Different reproductive cells and technologies are used in a variety of Assisted Reproductive Technologies (ART). The appropriate ART procedure will vary depending on your unique situation. The method you select will have a different level of success based on your age and health, among other things. Before prescribing ART procedures to help with pregnancy and improving fertility, experts normally conduct extensive research to collect data and assess the potential risks, benefits, and expenses.

Among the most common Assisted Reproductive Technologies and infertility treatments are:
In Vitro Fertilization (IVF)
In Vitro Fertilization (IVF), which accounts for 99% of data of all Assisted Reproductive Technology and infertility treatments, is one of the most common and successful ART procedures used today. IVF procedures provide a positive impact in resolving infertility issues among patients. Egg extraction and fertilization are the primary steps in IVF and can be done in an IVF workstation. During the procedure, fertility doctors mix the egg and sperm in the IVF workstation before performing an embryo transfer to place the resulting embryo culture in the women's uterus, thereby, hopefully, resulting in a successful pregnancy and improved fertility.

In Vitro Fertilization (IVF) is an advanced technology that has a proven track record of safety and high success rates. IVF procedures offer a secure track record because it has been utilized for many years. Since its initial introduction in the 1970s, continuous research in the field has been conducted. Scientists, embryologists, and manufacturers used data collected to generally improve IVF procedures, and develop IVF methods to produce safer and more effective infertility treatments and IVF workstations.

If a diagnosis of infertility indicates that other reproductive technology or fertility treatments are less likely to be successful, a doctor might advise IVF. For serious illnesses like severe male infertility factors, blocked fallopian tubes, advanced maternal age, and more, IVF is the best option.

It's also important to note that IVF procedures are not just for women. It can also be utilized by a gestational carrier or surrogate, making it possible for a variety of people to become parents and take part in the pregnancy experience.
Intrafallopian Transfer
Similar to IVF methods, intrafallopian transfer uses laparoscopic surgery to introduce gametes to the fallopian tube. Some patients might favor this approach for religious or financial reasons, or if their insurance will only pay for this kind of Assisted Reproductive Technology. There are two subtypes of intrafallopian transfer:
Gamete Intrafallopian Transfer (GIFT)
In GIFT, sperm and eggs are collected in a tube, and then utilizing laparoscopic surgery, experts insert gametes straight into the fallopian tube. You cannot select which embryo to transfer because it does not include an IVF treatment.
Zygote intrafallopian transfer (ZIFT)
ZIFT is a fusion between GIFT and ZIFT methods. Using IVF workstations and techniques, doctors gather and mimic eggs. After that, the sperm and eggs are combined in an IVF laboratory or an IVF workstation, and the fertilized egg is then returned to the fallopian tube.
However, surgery is required for intrafallopian transfers, and there is a chance that an organ will be punctured. Additionally, it costs more than IVF. 
Frozen Embryo Transfer (FET)
Frozen embryos are thawed on an IVF workstation in the laboratory before being transferred to a woman's uterus during a frozen embryo transfer. Disposable or reusable shallow containers known as culture dishes may be used. These are created expressly to assist the growth and division of cells in culture.

According to research, data roughly presents 52% of people who had FET had successful ongoing pregnancies, which has helped FET gain some appeal in the USA. However, specialists point out that FET may raise the chance of preterm birth. This procedure also carries the danger that the thawing procedure of frozen embryos in IVF laboratories or IVF workstations may harm some stored embryo culture. FET, the most popular and effective form of IVF nowadays, is the most common due to the rarity of these hazards.
Intracytoplasmic Sperm Injection (ICSI)
Experts in embryology may use the ICSI treatment in conjunction with IVF. It entails inserting a tiny needle and a single sperm directly into the center of an egg in a laboratory. Intracytoplasmic Sperm Injection (ICSI) may be the best option for people with sperm-related infertility because it can fertilize between 50 and 80% of eggs. ICSI can cost more than IVF alone because it is typically an add-on procedure to IVF. Because of how significantly it raises success rates and ultimately decreases the cost of IVF, ICSI is becoming the industry standard for IVF.
Estate Planning
Assisted Reproductive Technology (ART) and IVF procedures might pose significant legal issues regarding estate planning. Particularly in situations where a child was produced from donated gametes, would a child be eligible to receive dividends from a trust that was created solely for the benefit of the grandparent's biological offspring, for instance? Or, should probate be postponed or altered if a spouse decides to use the frozen eggs or sperm if he cryogenically preserved their gametes, but passes away? Because the technology is relatively new, these are exceedingly complicated legal issues that have not yet been fully resolved. Further research on laws surrounding ART and IVF is definitely a must for patients, manufacturers, end users, doctors, embryologists, and scientists.
Potential Conflict
Any time you work with a third party, like a surrogate, sperm donor, or donor eggs, there is a chance for miscommunications and shifting opinions before, during, and after the IVF procedure. When a disagreement arises between the couple who meant to raise the child and the biological couple who had previously volunteered to carry the child or donate their genetic material to create the child, who is legally granted parental rights over the child? Although it is still a fairly new area of the law with very little case law to draw from, the law tends to bias towards making decisions in such cases based on the original aim of the agreement. It is therefore best to speak with legal and medical experts about this before taking your next step.
What are the Factors Driving the IVF Workstations Market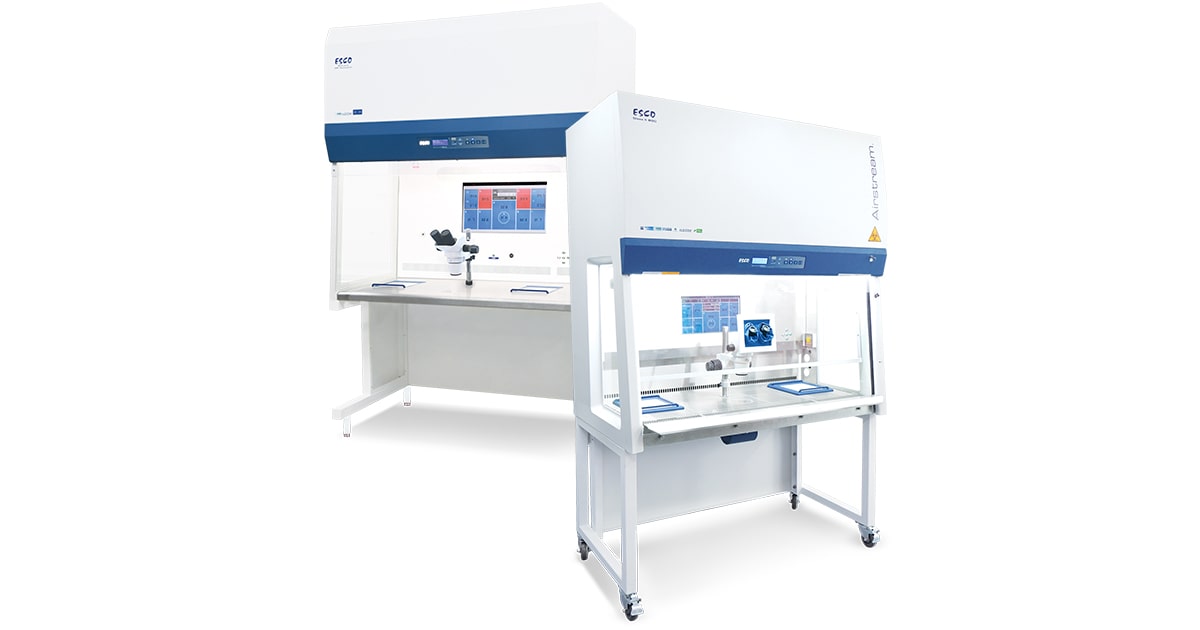 According to data from the World Health Organization (WHO), infertility is a serious global issue surrounding human reproduction. Its primary causes are abnormalities in the male, female, or both human reproduction systems, and it can manifest as both infertility and failure to maintain pregnancy.

The Centers for Disease Control and Prevention reported in a research that between 2011 and 2013, data shows nearly 7.5 million women in the United States had a diminished capacity of pregnancy or to conceive or carry a child to live birth. The research concluded that both male and female factors can contribute to infertility, as can unidentified fertility issues. A growing number of patients, both men and women, are experiencing fertility issues and risk factors associated with ovulation, uterine issues, blocked fallopian tubes, bad diet, aging, and other conditions.

As it is a global problem, Assisted Reproductive Technology (ART) was developed and continues to improve according to research, demands in the health and market industry. Increased rates of infertility caused by several factors or fertility issues, such as blocked or damaged fallopian tubes, lower sperm counts, problems with female ovulation, and genetic diseases, such as Polycystic Ovary Syndrome (PCOS) among others, are driving up demand for IVF workstations and reproductive medicine. In order to produce novel, technologically sophisticated IVF workstations, thereby aiding IVF procedures with a high success rate, researchers are concentrating on health issues affecting patients, both women and men.

The demand for IVF procedures in the market, which need an IVF workstation to ensure proper system operation for maximum sample protection, is being driven by technological advancement in devices with improved sensitivity, growing public awareness about infertility, assisted reproduction, and the available fertility treatment options, and rising out-of-pocket healthcare expenditure.

Gynecological illnesses that make it difficult to conceive, such as fibroids, uterine polyps, polycystic ovarian disease, endometriosis, and unexplained infertility, are becoming more common as a result of changing lifestyles. These are the elements that are anticipated to propel the market for IVF workstations.

Due to a sedentary lifestyle, an increase in stress-related illnesses and disorders, which contribute to an increase in infertility, and new product improvements, North America dominates the global market for IVF workstations. Due to development efforts and a significant research base, Europe is the second largest market for intrauterine insemination treatments.

Additionally, due to changing lifestyles, a sizable target patient pool, rapid population expansion, adoption of western lifestyles, increased knowledge of the IVF method, and growth in research and development, the Asia Pacific market is also anticipated to expand at a faster rate.

Esco Medical is one of the many industry participants in the IVF market. Increases in the number of cases of infertility, IVF procedures, and public knowledge of ethically acceptable assisted reproduction technology are just a few of the elements presenting manufacturers with a global potential to create premium IVF workstations.
Market Outlook of Assisted Reproductive Technology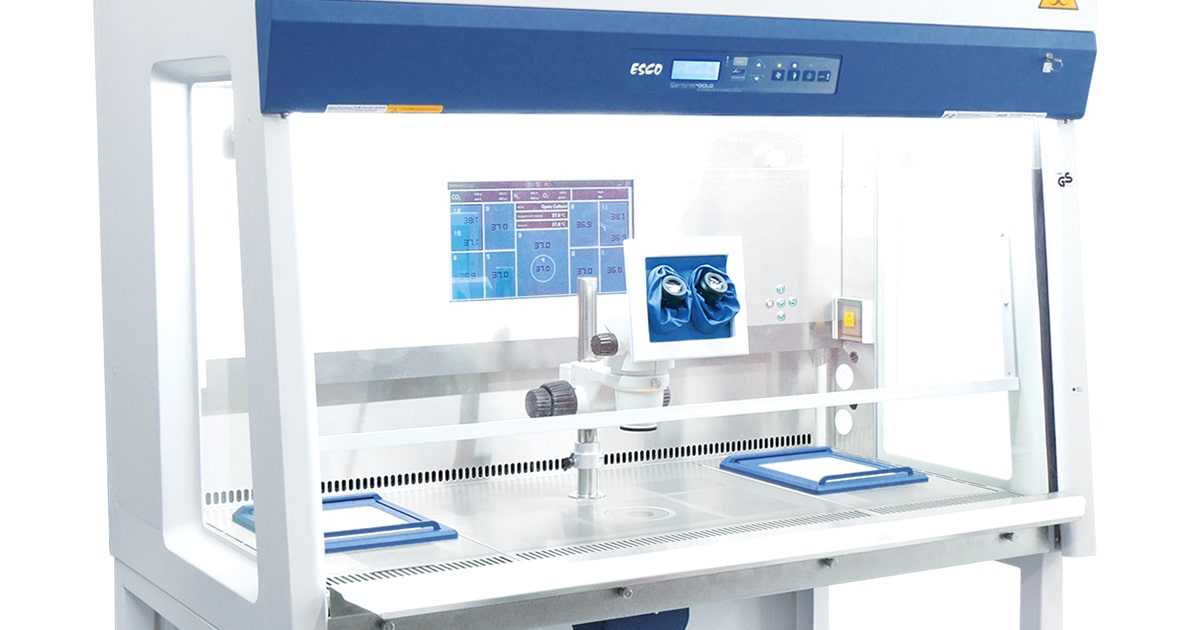 In fiscal year 2022, the global market for assisted reproductive technology (ART) is predicted to be valued US$ 24.5 billion, up from US$ 23 billion in fiscal year 2021. The market is anticipated to increase at a 6.2% CAGR from 2022 to 2032, reaching a value of US$ 44.71 billion by the end of that year.
According to the World Health Organization Statistics 2021, 190 million individuals worldwide struggle with challenges related to infertility. The increasing prevalence of infertility may be attributed to a variety of factors, including the rise in cigarette smoking, STIs, cases of obesity, polycystic ovary syndrome (PCOS), endometriosis, primary ovarian insufficiency (POC), and others.

As society accepts ART and IVF more frequently as a result of the adoption of more advanced technologies, such as time-lapse embryo imaging, preimplantation genetic testing, magnetic activated cell sorting, and endometrial receptivity analysis testing, it is anticipated that the demand for ART and IVF treatments will rise.

Many organizations, like the American Society for Reproductive Medicine and the Society for Assisted Reproductive Technology, are working together to increase awareness about alternative infertility treatments (SART). Numerous innovative types of research are now being done in the area of culture media for ART and IVF.

During the projected period, 2022–2032, such breakthroughs in this field are anticipated to dramatically increase demand in the market for assisted reproductive technologies.
Multi-Zone ART Workstation
Esco Medical's Multi-Zone ART Workstation® is a vertical laminar flow workstation with the option of an integrated microscope and MIRI® chambers, and several heating zones that provide precise controlled temperature over the work area or environment. Numerous sizes and configurations are available for purchase.

Multi-Zone Assisted Reproductive Technology Workstations are typically utilized for non-hazardous applications requiring a clean working environment, such as Animal In Vitro Fertilization and Sample Handling. The entire chamber and sash opening are supplied with positive-pressure, ISO-5 clean air, keeping airborne particles away from delicate applications.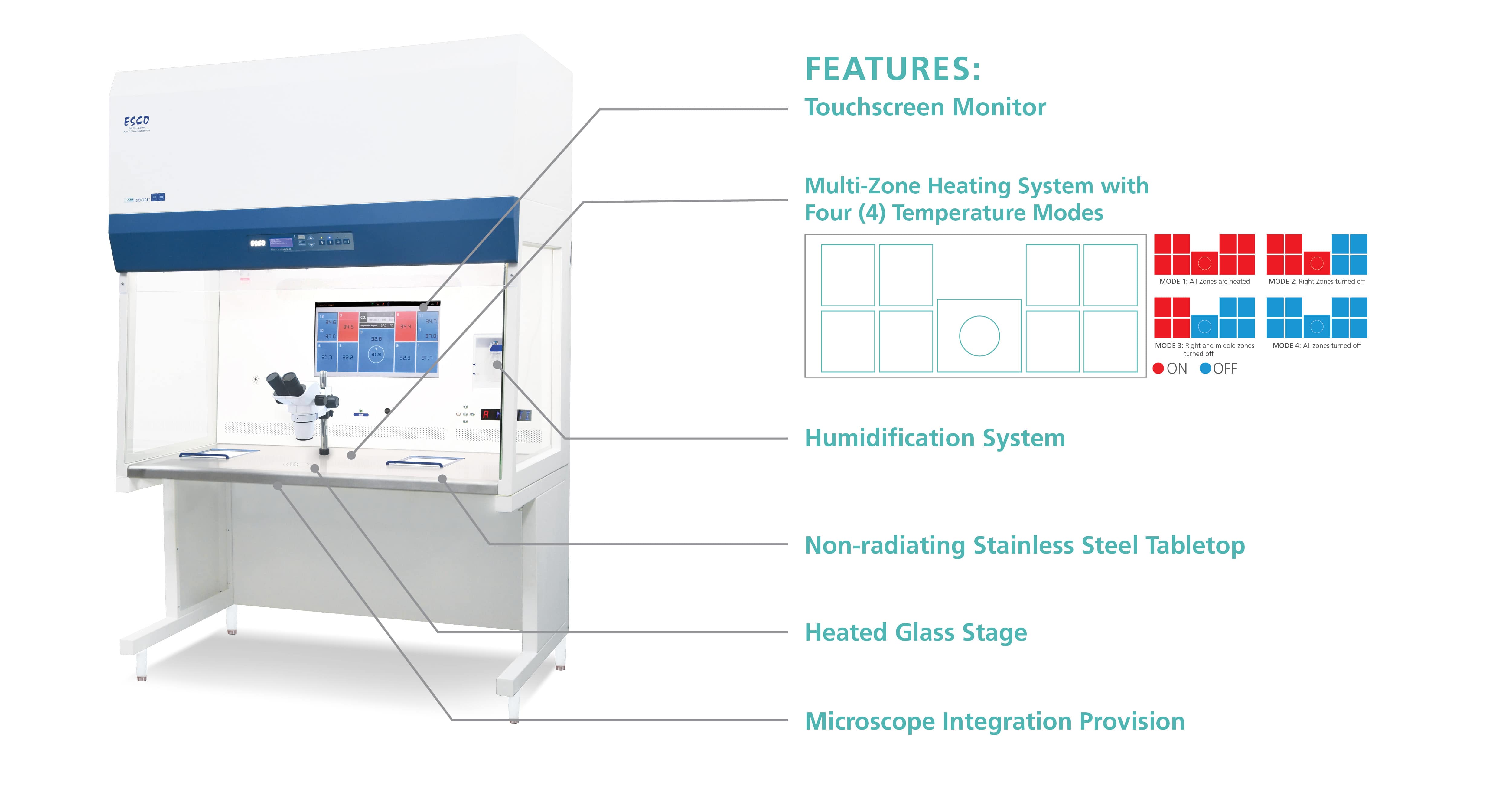 Multi-Zone Heating System
Ten different zones, each with its own heating elements and sensors, enable excellent homogeneity. There are numerous separate heating zones, each with its own heating elements and sensors, and there is no cross-zone heating. To further guarantee a controlled temperature and fast temperature recovery in the environment during the procedure, the heated glass stage has a dedicated, uninterruptible power supply. Power distribution will automatically be given priority by the heating system to deliver precise temperature adjustment and rapid recovery. In models with MIRI® chambers, temperature regulation is always active, regardless of mode.
Additional Features
Here are some of the additional features of the Multi-Zone ART Workstation®.
Choice of Four Temperature Modes
The Multi-Zone ART Workstation® is specifically designed to give you the choice between turning on all zones, turning off the right zones, turning off the right and middle zones or all zones being turned off. This is designed to minimize microbial contamination within the embryo culture media.
Humidification System
The Multi-Zone ART Workstation® 's humidification system allows for digital control of premixed gas, allowing for a comprehensive controlled gas flow and a controlled environment or sample. The table top has a gas output port, and the plastic cover will encapsulate the humidified gas, creating a mini incubator.
Energy Efficient Chart
ECM blowers are used in Esco Assisted Reproductive Technology Workstations, enabling minimal cabinet power consumption, as well as providing low noise levels, without sacrificing cabinet performance. It also has a standby mode that helps to save energy while the cabinet is not in use.
Touchscreen Monitor System
Fully functional Windows PC with a touch screen provides real-time information and data on all work area parameters e.g. zone temperature performance, gas pressure, and flow rate.

Superior Air Cleanliness

Esco cabinets deliver ISO Class 3 air cleanliness within the work zone, which is much cleaner than the competition's Class 4 designation.

Learn more about the Multi-Zone ART Workstation here.