Taking A Closer Look at MIRI® IVF Incubators
---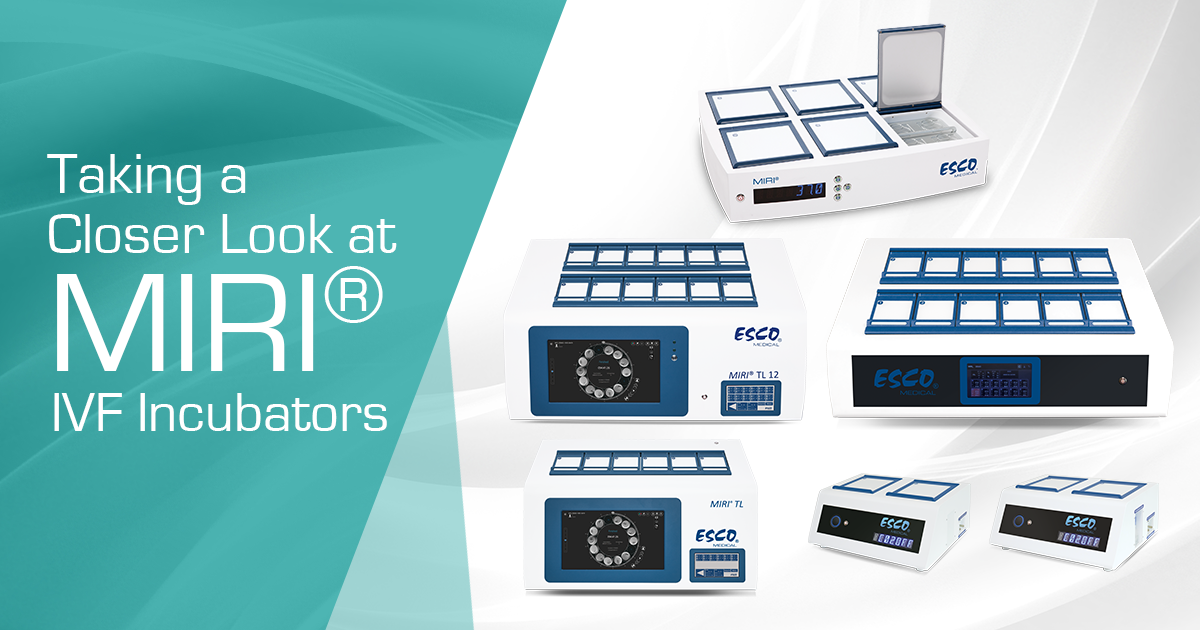 Esco Medical, as the leading manufacturer and innovator of high-quality equipment for the IVF industry, offers one of the most unique incubator designs. Entering a competitive market 8 years ago with some well-known IVF equipment manufacturers, Esco Medical showcased something that others have yet to offer – a multiroom system. More than just individualized chambers, the MIRI® line of incubators boasts its excellent temperature and gas uniformity and recovery times. All the MIRI® models of incubators also have a gas mixing chamber that utilizes pure gas (100% CO2, 100% N2) giving flexibility and accurate control of gas-phase composition in the chambers. The recirculating air is maintained clean and free from harmful compounds with its HEPA/VOC filter and UVC-light (254nm) that sterilizes the airstream. Together with these key features, the MIRI® Multiroom design also ensures zero disturbance in neighboring chambers whenever one opens which makes it one of the top incubators in the industry today.
In this article, you will know more about the MIRI® line of IVF incubators and which ones are perfect for your IVF clinic's needs.
What are the different MIRI® IVF incubators?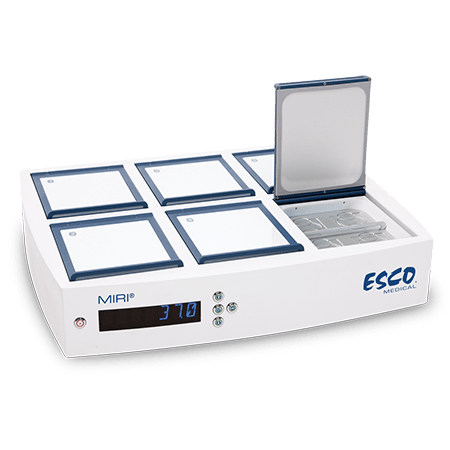 The MIRI® is a revolution, in form and functionality, of benchtop incubators for In Vitro Fertilization (IVF). With 6 chambers, the MIRI® is a multiroom incubator that allows users to access their cultures in one chamber without affecting the neighbouring chambers. It utilizes a dry culture system with a built-in HEPA/VOC filter that helps maintain a clean airstream while ensuring stable and precise temperature, gas concentration and pH.
The MIRI® TL is a time-lapse incubator that monitors embryo development. The MIRI® TL provides high quality time-lapse images of embryos developing in "real-time", without having to remove the embryos from the safety of the incubation chamber for manual microscopy. With time-lapse technology, the videos provide embryologists with detailed morphokinetic data throughout embryo development which helps in conducting better embryo selection to attain the shortest time possible to achieve pregnancy.
The MIRI® II multiroom incubator dedicates one chamber for one patient to ultimately secure a minimum-stress environment for embryos. Having specialized dish inserts that are flexible to the major brands of culture dishes in the market, the MIRI® II is perfectly suited for minimal stimulation protocols that produce smaller amounts of egg cells per OPU (oocyte pick up) procedure.
The Mini MIRI® Dry incubator is a scale-down version of the classic MIRI® multiroom incubator, ideal for customers prioritizing footprint and affordability.
The Mini MIRI® Humidified incubator is a humidified incubator built on the robust and reliable MIRI® design. The compact design and direct heat regulation further translate to faster temperature and gas recovery.
Key features of the MIRI® IVF Incubators
With the varying needs of IVF clinics worldwide, Esco Medical makes sure that the MIRI® line of incubators offers solutions to our customer needs. All MIRI® incubators have two temperature-controlled points (heated lid and bottom) to prevent condensation and to maintain excellent temperature uniformity. For external validation purposes, the MIRI® line of incubators also has PT1000 sensors and gas ports. Aside from this QC feature, MIRI® is also compatible with SAFE Sens technology which helps monitor pH continuously throughout the whole culture period of the embryos without the need to open the chambers. Our multiroom incubators not only excel in maintaining optimum parameters for the embryos but are also flexible to different culture dish brands that our customers prefer to use. MIRI® incubators are compatible with 6 culture dish brands (Nunc, Falcon, Vitrolife, LifeGlobal, Nippon, Sparmed- Oosafe) and have specialized dish inserts designed for their culture dish of choice.
What MIRI® IVF incubator is perfect for you?
The MIRI® line of incubators also offers other innovative solutions for your IVF clinic problems like laboratory space constraints with our compact-sized Mini MIRI® multiroom incubators that come in either a dry and humidified culture setup, fit for one's limited laboratory space. For Advances in Assisted Reproductive Technology (ART) like time-lapse technology, Esco Medical offers the MIRI® TL that comes in two variants - the MIRI® TL6 and TL12. The MIRI® TL is one of the leading time-lapse incubators that help today's embryologist by providing them with advanced embryo selection tools that help them increase the chances of getting their patients to achieve pregnancy. Aside from these, Esco Medical also now offers an incubator that can accommodate a one chamber one patient setup perfect for minimal stimulation protocols with the MIRI® II.
True enough, our customers enjoy the innovative technological solutions that Esco Medical offers for fertility clinics and laboratories worldwide. With country offices across the world, access to after sales service and support is a breeze for our customers. Other than the MIRI® line of incubators, Esco Medical also offers ART workstations, anti-vibration tables, and more high-quality IVF equipment for your laboratories' needs. For more information, check the full list of equipment at Esco Medical's website.