Esco MY hosts TL technology and embryo culture management webinar
---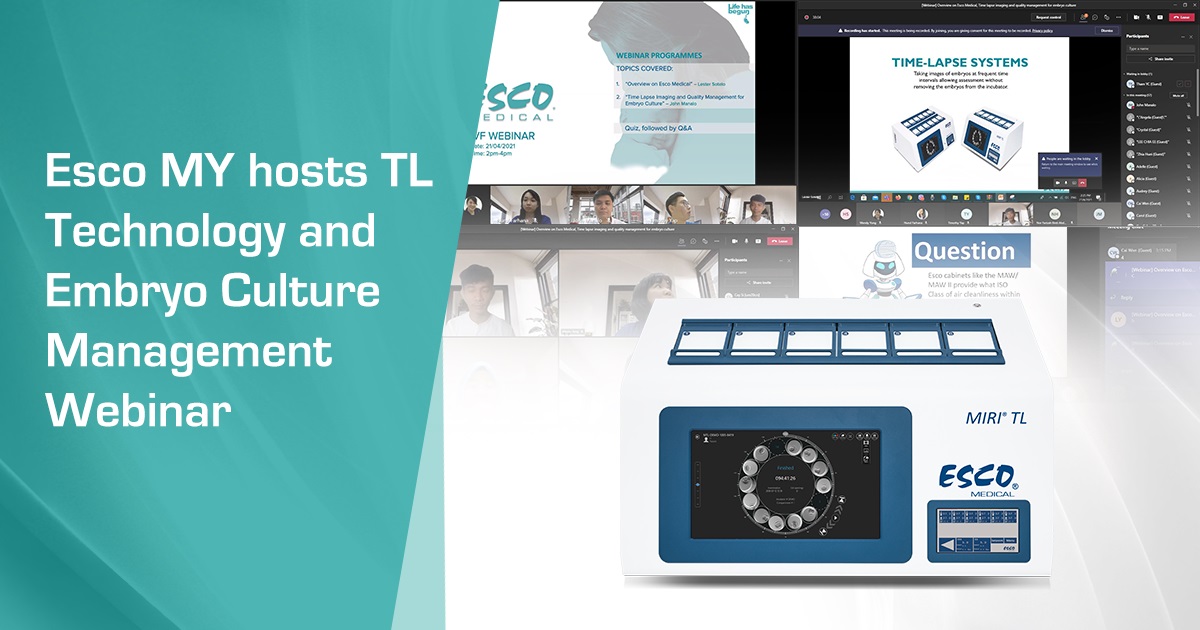 Esco Malaysia once again hosted a webinar for IVF professionals across Malaysia last April 21, 2021. The 2-hour webinar talked about time – lapse (TL) technology, embryo culture management, and an overview of Esco Medical's product portfolio.
John Frederick Manalo (Application Specialist) and Lester Sotelo (Product Specialist) served as the webinar's speakers. During the session, discussion about the benefits of TL technology, essential IVF laboratory practices in managing embryo culture, and the unique design and feature of the MIRI ® TL were highlighted. Timothy Yap, Esco MY Product Sales Specialist, served as the program's host, and later on enjoined the participants to a fun virtual quiz.
The MIRI® TL is a multiroom incubator with a built-in camera and microscope. Designed and manufactured in EU, wherein the time-lapse incubator provides high quality time-lapse images of embryos developing in 'real-time', without having to remove the embryos from the safety of the incubation chamber for manual microscopy.
As part of our desire to continuously provide educational learning experiences to our IVF professionals across the globe, Esco Medical conducts various online seminars and trainings. This is also our way of keeping our customers up-to-date with some advancement in the field of reproductive medicine and assisted reproductive technology.
Esco Malaysia would like to express their utmost gratitude to the more than 70 professionals from over 10 IVF institutions across Malaysia, who joined the webinar. The participating institutions are Pantai Hospital Kuala Lumpur, Victory IVF Fertility Lab, Kensington Green Specialist Centre, Gleneagles Medini IVF, IVF Bridge Fertility Centre, KL Fertility, TMC Fertility and Women Specialist Centres (Ipoh and Penang branches), Sunfert International Fertility Centres (Ipoh branch), Alpha Fertility Centre, Metro IVF, Star Fertility, Loh Guan Lye Specialist Centre, and Island Hospital Penang.