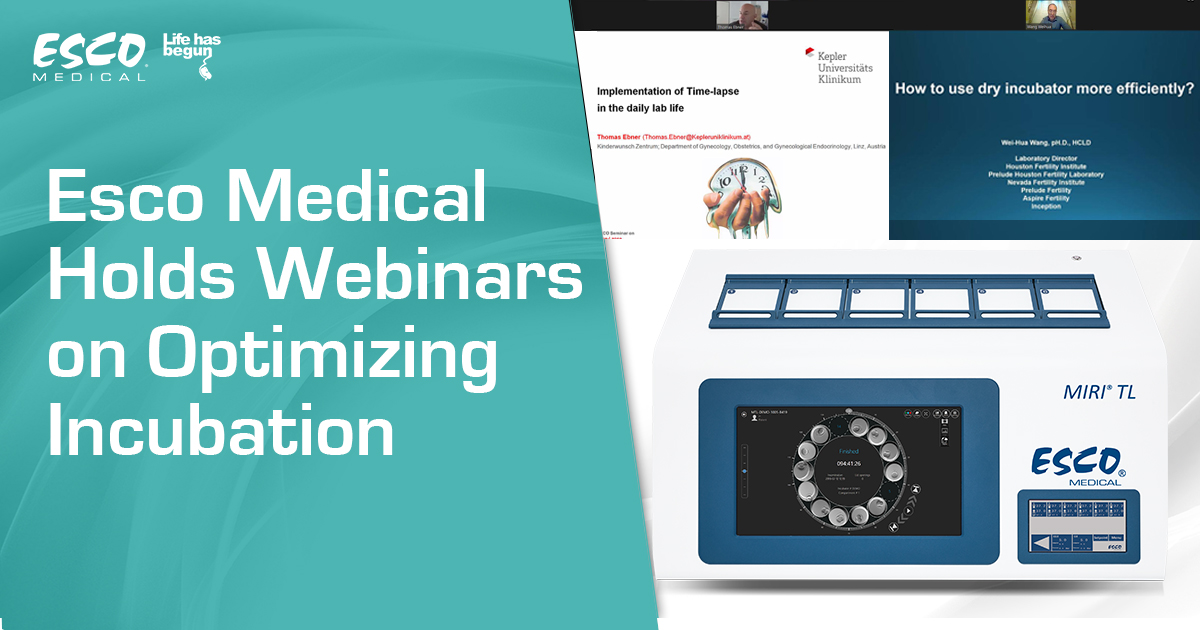 With the sudden shift in operating businesses and keeping an open line of communication with business partners, clients and potential customers, online discourse through webinars have become a part of the "new normal".
Esco Medical has seen webinars as powerful opportunity tool to educate and reach out to our beloved clients. On two occasions the last 2 weeks, Esco Medical conducted relevant and timely webinars that intend to benefit the IVF professionals worldwide.
The 1st webinar that culminated last May 27, 2020 is about the "Implementation of Time Lapse Incubators in IVF Clinics". In this webinar, Prof. Thomas Ebner, one of the prominent embryologists in Europe, shared invaluable thoughts on factors to consider before going for time lapse incubators.
Being a MIRI® TL user since 2014, Dr. Ebner discussed reasons why the use of a time-lapse incubator is deemed essential in this generation. He highlighted some good practice recommendations for the use of time-lapse technology that is lifted from a literature in ESHRE he co-authored. He also shared notable studies that are useful in the practice of embryology.
During this webinar, Esco Medical Applications Specialist Morten Kristiansen shared his insights and experiences using the MIRI® TL during the Q&A portion of the webinar. Morten also discussed on the TL software part of the webinar wherein he elaborated the basic navigation of the software and interpretation of data gathered during the review of the development of embryos.
The 2nd webinar hosted by Esco Medical talked about "Techniques in Handling Dry Incubator Culture". Since the osmolality's stability is perceived a challenge to some IVF practitioners, Esco Medical invited Dr. Wang Weihua, laboratory director of Houston Fertility Institute (USA) to share his thoughts about this.

Dr. Wang, being a veteran dry incubator user who has managed to achieve excellent results using Esco MIRI® dry incubators, discussed his techniques and gave some useful tips on how to maintain osmolality stability in dry culture. He also shared some key points that contribute to a successful IVF, highlighting the importance of the use of a high-quality incubator.
There will definitely be more worthwhile and educational webinars soon. In behalf of the entire Esco Medical team, we thank all the IVF professionals who have shown interest and support to our webinars. We also thank our distinguished speakers for sharing their expertise.
For more updates, follow us on our various social media platform.