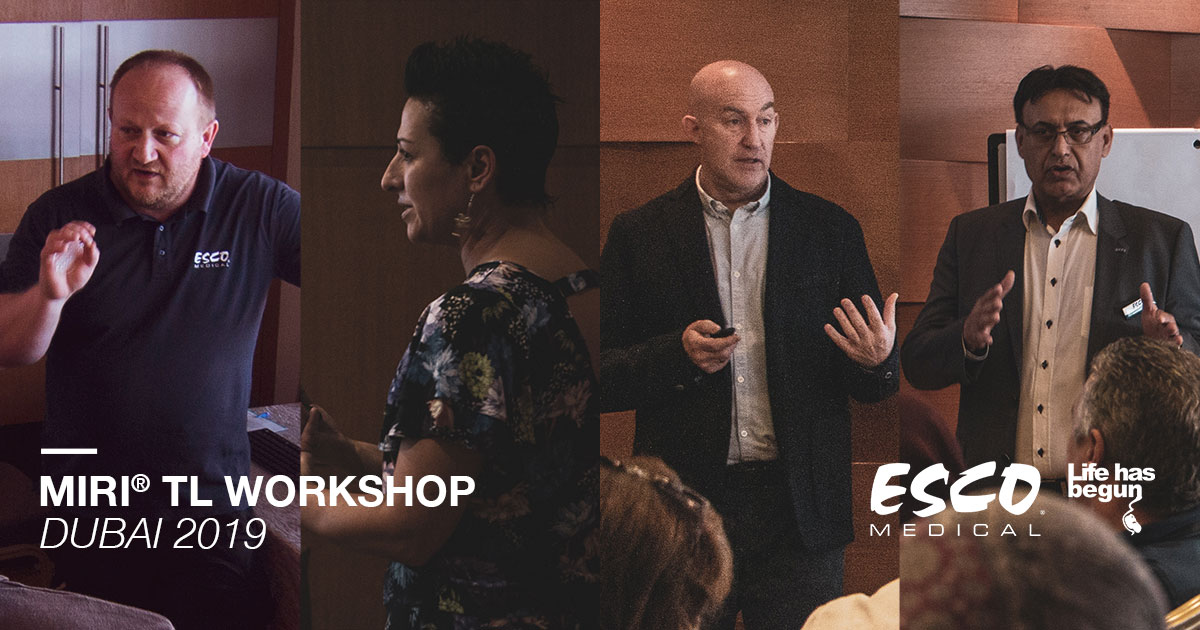 In vitro fertilization (IVF) is one of the fastest developing fields of medicine. And with breakthroughs like time-lapse technology, embryo monitoring has allowed continuous, non-invasive embryo observation without the need to remove the embryo from optimal culturing conditions – resulting in higher chances of IVF success.
Esco Medical is one with embryologists worldwide in achieving this goal by conducting relevant workshops in the field of reproductive medicine. Esco Medical, through its Esco Dubai office, conducted a 4-day Time-Lapse (TL) workshop from November 27 – 30, 2019 at Novotel Al Barsha, Dubai, United Arab Emirates. Various medical practitioners from the Middle East and North Africa (MENA) region, who specialize in reproductive medicine, participated in the said event.
The workshop was facilitated by Esco Medical's Regional Manager for MENA, Mehrdad Makky, who also made a brief presentation about the company's profile. The 4-day affair consisted of lectures, and hands-on exercises. Three Assisted Reproductive Technology (ART) experts served as the event's distinguished speakers. They are: Professor Thomas Ebner of Kepler Universitäts klinikum (Austria); Irene Cuevas Sáiz (the laboratory director of Consorcio Hospital in Spain; and Morten Kristensen, an Application Specialist from Esco Denmark.
Topics discussed by the speakers include "Guidelines on the Nomenclature and Annotation of Dynamic Human Embryo Monitoring' and "Product and Possibilities with Esco Time Lapse". After the lectures, hands-on sessions on MIRI Time Lapse System were conducted. The MIRI® TL, Esco Medical's top-notch device, is a multiroom incubator with a built-in camera and microscope. Designed and manufactured in Europe, the MIRI® TL provides high-quality time-lapse images of embryos developing in 'real-time', without having to remove the embryos from the safety of the incubation chamber for manual microscopy. Through this workshop on MIRI TL, the participants are able to observe how embryo monitoring is done. This provides a detailed morphokinetic data throughout embryo development, a feature that is not available on routine spot microscopic evaluation. This allows all important events to be observed, helping to identify healthy embryos with the highest probability of implantation, with the aim of achieving higher pregnancy rates.
From the entire Esco Medical team, we would like to express our sincerest gratitude to everyone who joined us. We also congratulate our Esco Dubai team for successfully organizing this event in Dubai, UAE. We hope to see you on our next TL workshop! For updates and inquiries, check our website https://www.escomedicalgroup.com/