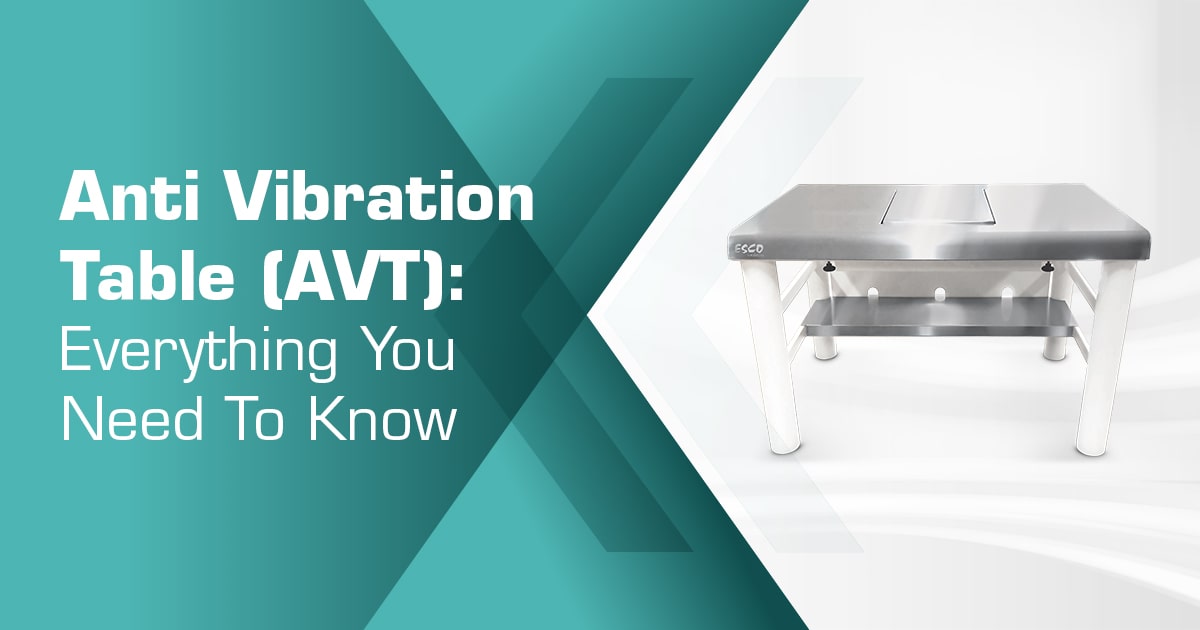 What is an Anti Vibration Table (AVT)
The anti-vibration mechanism on the Esco Medical's Anti-Vibration Table (MIRI® AVT) allows the IVF microscope to be passively dampened. The Anti-Vibration Table is typically used in intracytoplasmic sperm injection (ICSI) operations. The Esco Medical MIRI® AVT'S stainless steel table and robust frame, which are both exclusively designed and manufactured in the EU, give the anti-vibration table more weight. Esco Medical Anti-Vibration Table (MIRI® AVT) is designed to be user-friendly and maintenance-free.
Features of AVT
The main features of Esco Medical Anti-Vibration Table (MIRI® AVT) include anti-vibration mechanism for passive dampening, with the anti-vibration platform having an overall dimension of 1200x800mm, and a float dimension of 540x340mm. The anti-vibration platform, which houses the anti-vibration mechanism and is floating atop the AVT mechanism, is in the center of the tabletop. The anti-vibration float is where the microscope is situated.
Esco Medical Anti-Vibration Tables (MIRI® AVT) are constructed with a sturdy frame, stainless steel material, powder-painted mild steel, and a rectangular shape design. Esco Medical Anti-Vibration Tables (MIRI® AVT) weigh about 117kgs (258lbs) with a recommended load weight of 26-32kgs for a table of 2 springs, and 32-50kgs for a table of 3 springs. The table also has a strong, high-quality stainless steel structure that is relatively easy to clean and maintain.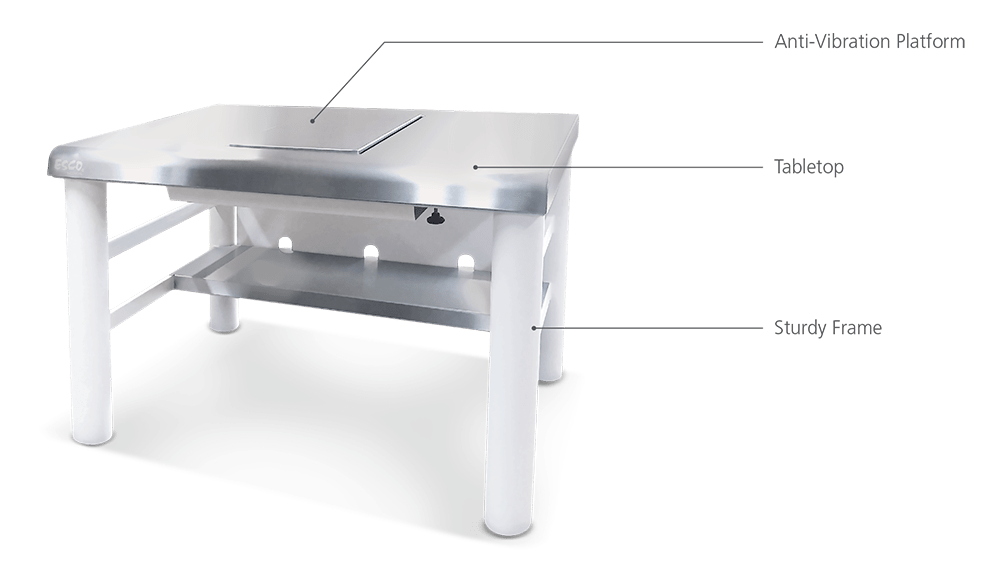 The Mechanism: How do AVTs work?
The AVTs manufactured by Esco Medical, the MIRI® AVT, are designed to be used with high-magnification In Vitro Fertilization microscopes. It separates the IVF microscope from any vibrations produced above or below any portion of the tabletop that is not a component of the AVT platform as well as from vibrations produced in the room where the table is positioned.
Accuracy is the most important issue when it comes to weighing, hence many different technologies are created to mitigate the effects of ambient conditions. Anti-draft chambers are one of the most widely utilized instruments because wind currents can significantly affect weighing findings. Additionally, vibrations have the power to alter results significantly. By suspending a thick object, such as a granite slab, on which the scale is set, anti-vibration tables lessen these effects. The mass decreases the overall influence of local vibrations that may be brought on by machinery, traffic, or seismic activity. In order to accommodate for potential operator errors, such as accidentally knocking against the table, the frame holding the mass is occasionally enclosed by another frame.
The anti-vibration mechanism only partially reduces the vibration that is produced on the MIRI® AVT platform itself and functions as a passive dampening device. Through a carefully considered selection of mass and support stiffness that ensures passive dampening, the vibrations are effectively minimized. Building floors in buildings shake at low frequencies throughout all structures, which could impair the operation of a high-magnification microscope. Installing a mechanism that isolates the IVF microscope region will significantly lessen the effects of vibration. Depending on the intensity and frequency of the floor vibrations, the degree of improvement varies between instruments and places.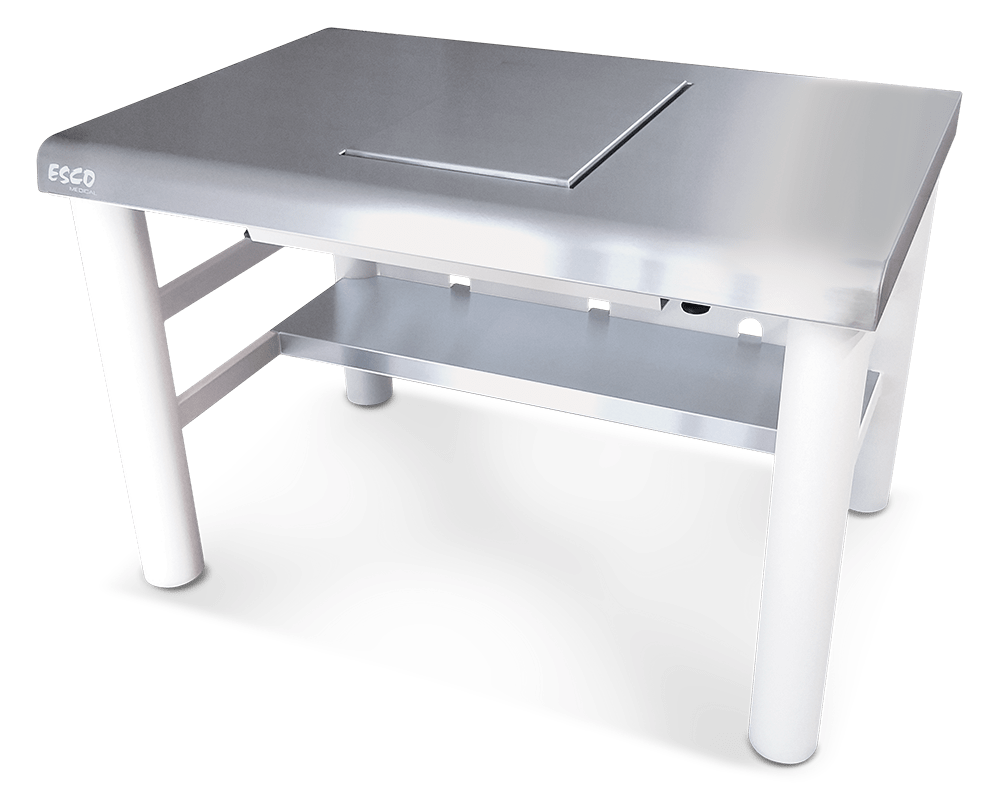 Simple yet effective anti-vibration tables function by absorbing any vibrations in a lab using a shock-absorbing substance. The shock-absorbent material stops motion from traveling from the weighing surface to the tabletop or ground upon which the table is supported.
In summary, the key benefit of Esco Medical Anti-Vibration Table (MIRI® AVT) is the isolation of the IVF microscope from vibrations generated from the external environment. Vibrations and movement brought on by footsteps, passing gas tanks, nearby construction, and drafts are reduced with anti-vibration tables.  It might be challenging to nullify low frequency vibrations caused by construction or traffic, therefore it's crucial to place your lab as far away from a road as you can. However, horizontal vibrations brought on by wind sway, footsteps, and building height might still result in errors. Although you might not be able to feel the vibrations, very sensitive laboratory balances most likely can. An anti-vibration table is necessary to give the precise weighing for lab balances because not many individuals will have the luxury of being able to shift their laboratory to another location. This is especially true when other accessories like draught shields are employed.
Applications
To resolve weighing inaccuracies, Esco Medical created a dedicated balance workstation using an anti-vibration table to ensure accurate readings. Analytical and precision balances are particularly prone to interference from the environment, including vibrations from surrounding lab equipment, refrigerators, ventilation systems, and air currents. Particularly when using precise equipment like an analytical balance (which is designed to detect very minute increments) and small samples, subtle, almost unnoticeable external influences like movement might affect weighing results. Vibration oscillations during the calibration procedure have the potential to significantly distort data. This is why AVTs are very important in various industries. Here are some fields that use AVTs in their day-to-day operations.
Pharmaceutical Production and Medical Research Facilities
Anti-Vibration Tables with authorized balances are used by professional medical facilities and chemists to precisely measure compounds while making medicines and dietary supplements. 
University Laboratories
For delicate scientific research, density determination, and chemical analysis, university science labs use anti-vibration equipment with balances.
Food Testing Facilities
To precisely estimate the ideal weight of food samples, food testing laboratories need anti-vibration equipment and very accurate laboratory balances.
Types of Laboratory Balances used in AVTs
Precision Balance
Precision balances are known to be more durable than higher precision analytical ones and have readabilities of up to 0.01g. Although anti-vibration tables are advised for professional precision balances that offer class I, II, and III medical approvals, these balances can typically be used without them in most situations.
Analytical Balance
With a readability of up to 0.001g, analytical balances are more precise than regular precision models. Usually, these balances include draft excluders or draft shields. Chemical, pharmaceutical, and food samples are frequently weighed using analytical balances.
Semi Micro Balance
Semi micro balances have a reading range of up to 0.0001g and is used in research labs and hospitals for extremely sensitive weighing. It is highly advised to use anti-vibration tables with balances of this caliber.
Microbalance
Micro balances are regarded as having a reading resolution of up to six decimal places (0.00001g). Micro balances are employed when high levels of precision and accuracy are essential because of their extraordinary sensitivity. When employing a microbalance, an anti-vibration table aids in weighing performance optimization.
Conclusion
The Esco Medical Anti-Vibration Table (MIRI® AVT) technology enables the passive dampening of the IVF microscope. Intracytoplasmic sperm injection (ICSI) procedures frequently involve the use of the AVT. The MIRI® AVT's sturdy frame and stainless steel table, both of which were exclusively designed and manufactured in the EU, provide weight to the anti-vibration table. The Anti-Vibration Table from Esco Medical is made to be simple to use and require no maintenance.
Anti-vibration tables lessen the movement and vibrations caused by footsteps, passing vehicles, neighboring construction, and drafts. It may be difficult to eliminate low frequency vibrations brought on by building or traffic, thus it's important to locate your lab as far away from a road as you can. The separation of the IVF microscope from vibrations produced by the outside environment is the main advantage of the Esco Medical MIRI® AVT.