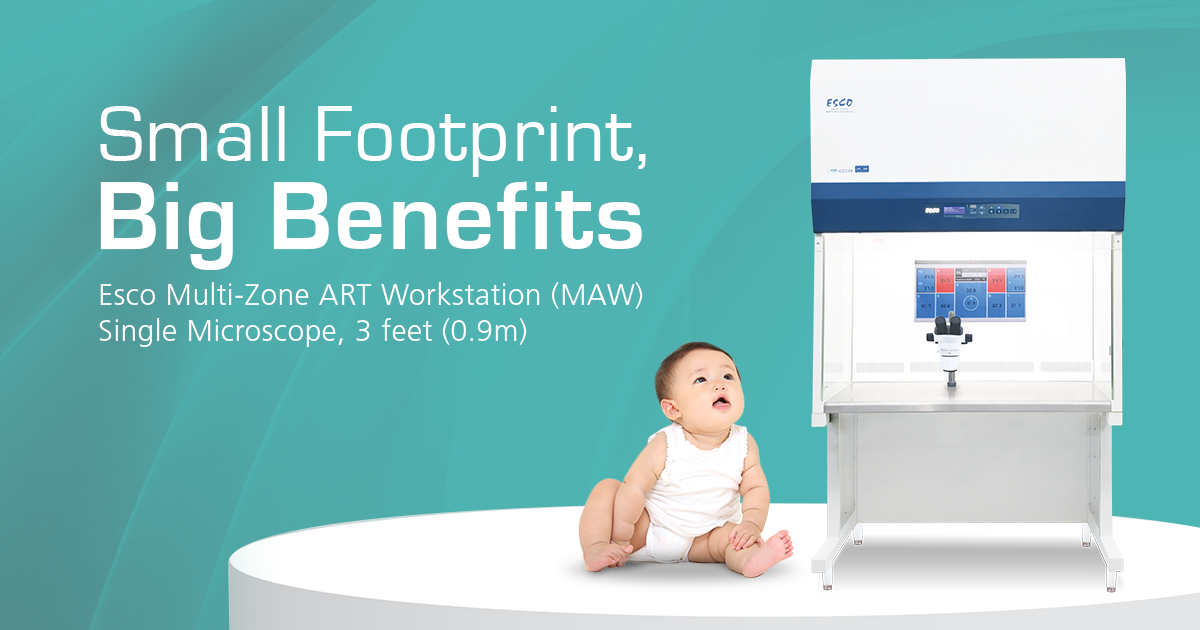 Are you worried that your efficiency in the lab maybe affected because your IVF lab has limited space? Yet, the need for an essential workstation is inevitable.
Esco Medical is launching the MAW 3-feet (0.9m) model, a scale down version of our existing Multi-Zone ART Workstation.
It is a reality that not all clinics and laboratories have ample space for their equipment. Most of the time, these technologies require a significant area for it to be accommodated. IVF laboratories with limited spaces may pose standard equipment installation problems.
So as not to compromise the equipment's quality and worth, Esco Medical is continuously transforming the features and design of its medical devices to fit and cater the needs of its clients. This includes coming up with an ingenious compact-sized solution. This is seen in our Mini MIRI® dry and humidified incubators.
And now, we also have a workstation that would surely fit your IVF laboratory. The new 3-feet model Multi-Zone ART Workstation (MAW) is intended to have smaller dimensions that will go well with a small laboratory space.
So whether you are a start-up IVF clinic conducting the usual IVF, ICSI or andrology procedures, and is concerned with your minimal space, Esco Medical's scale down version of MAW is an outright solution. True enough that small footprint has big advantages.
About the product, MAW, Multi-Zone ART Workstation is a laminar flow workstation with temperature control and humidified working environment. This workstation is intended for work with gametes and/or embryos at or near body temperature conditions during in vitro fertilization (IVF)/assisted production technology (ART) treatments. The 3-feet model has the following specifications:
Nominal Size:

0.9 meter (3 FT)

Internal Work area dimensions (width x depth x height):

955 x 500 x 710 mm (37.6" x 19.7" x 28.0")

External dimensions without support stand (width x depth x height):

1035 x 640 x 1400 mm
(40.8" x 25.2" x 55")

External Dimensions with "B" type support stand (width x depth x height):

1035 x 640 x 2160 mm
(40.8" x 25.2" x 85")

Cabinet Construction:

Main Body:

1.2 mm (0.05") gauge 18 electro-galvanized steel with White oven-baked

Work Zone:

1.5 mm (0.6") gauge 16 stainless steel, grade 304

Side Walls:

Tempered Laminated Glass

Sash:

Optional: Polycarbonate Sash for MAW with built-in UV Light

Laminar air velocity:

Average of 0.21m/s (+/-20%%%)

Filter efficiency:

99.999%%% at MPPS (Class H14)

Pre-filter:

Disposable and non-washable polyester fibres with 85% arrestance / EU3 rated

Noise level:

<48 dBa

Set of (9+1):

1 set

Surveillance System with data logger:

1 set

Humidification System:

1 set

Microscope:

Position for 1 microscope (not included)

Support stand:

Required (Not included)

Shipping dimensions (width x depth x height):

1120 X 820 X 1920 mm

Shipping weight:

195 kg
Learn more about this new model by downloading the complete brochure at www.esco-medical.com or you could send us an e-mail at [email protected]