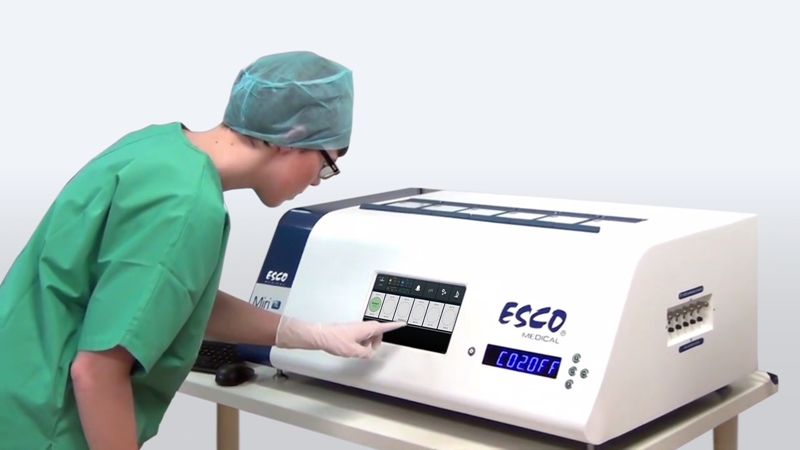 Esco Medical, the IVF business unit of the Esco Group, announced that it has received the U.S Food and Drug Administration (FDA) 510(k) clearance on the Miri® Time-Lapse Embryo Incubator. The Miri® TL is a multi-room incubator with a built-in microscope and camera that continuously captures images of embryo developments until the day of transfer without any disturbance. This enables a detailed scoring of the embryos cultured, for better prediction of developmental and implantation potential.
Conventional assessment of embryo selection in IVF is often limited to static observations at pre-defined time intervals, which requires the embryo to be taken out from the incubator. With the Miri TL, the dynamic process of embryo development can be observed without disturbances to culture conditions. This supports the Silent Embryo Hypothesis, which observes that embryos develop better if less disturbed.
The Miri® TL has a built-in gas mixer and six (6) individual chambers with independent temperature regulation to ensure optimal embryo culture conditions. It can simultaneously incubate up to 84 embryos in a safe and protected environment. The device includes the Miri® TL Viewer Software that assists IVF professionals in processing the data generated.
"We are pleased and proud to add Miri® TL to the list of 510(k) cleared products. Miri® TL provides an extensive list of Quality Control features such as an extremely reliable gas mixer, HEPA/VOC filter, UV light for airflow sterilization and built-in pH meter. Time-Lapse is an interesting and promising technology for improving IVF success rates. We are looking forward to serving our current and future customers to benefit from observing the dynamics of embryo development," says XiangQian (XQ) Lin, Group President and CEO.
Dr. Mitchell Rosen, Director, UCSF Fertility Preservation Program and Reproductive Laboratories commented, "Infertility is on the rise as a result of factors such as cultural shifts and aging. In the US alone, approximately 15% of couples are involuntarily infertile. As one of the top ranking medical centers in the US, UCSF has been a firm believer in Esco and its expertise in the IVF segment. Stability during the process of embryo development is necessarily important to boost the success rates of IVF implantation. With the help of Miri® TL, we not only collect more substantial data for analysis but also may benefit from the overall cost and time savings."
About Esco Medical
Esco Medical is a leading manufacturer and innovator of high-quality equipment such as long-term embryo incubators, ART workstations, Anti-Vibration Table, Time-Lapse incubators and is continuously developing advanced technologies to meet the increasing demand of the IVF industry. Most products are designed in Denmark and manufactured in the EU. Esco Medical is a business unit of the Esco Group, being a global life sciences tools provider in containment, clean air, pharmaceutical, and laboratory equipment technologies with active sales in over 100 countries and direct company offices in the top ten geographical markets.