Esco Malaysia holds MIRI® TL webinar
---
The growing interest and use of time-lapse technology (TLT) systems in IVF clinics and laboratories through the years has become a key instrument in the success of facilitating embryo monitoring. With this, Esco Medical has been active in providing workshops and webinars that would benefit and further educate professionals and customers in the IVF industry.
Esco Malaysia hosted a MIRI® Time-Lapse (TL) webinar last November 18, 2020. The webinar is broken down into two parts: a discussion on the features and benefits of a time-lapse incubator like Esco Medical's MIRI TL; and the application part where it was discussed how such system is manipulated.
John Frederick Manalo, Esco Medical's application specialist made a thorough discussion of what time-lapse technology is, and highlighted the key features and benefits of such equipment. On the other hand, Evaldas Pečiūnas, an engineer and the production support manager at Esco Medical Technologies, shared his expertise as to how MIRI® TL is operated.

Embryologists across Malaysia attended the said event. The participating professionals came from the following institutions: Island Hospital, Global Healthcare, Loh Guan Lye Specialists Centre, TMC Biotech, Sunway Fertility Centre, Hospital Universiti Sains Malaysia, TMC Fertility & Women's Specialist Centre, Pantai Hospital Kuala Lumpur, Sabahcare Fertility Centre, Ecofiesta Sdn Bhd/Victory IVF Fertility Lab, KL Fertility Centre, Sophea Fertility Centre, Hospital Sultanah Nur Zahirah, KPJ Damansara Specialist Hospital, Thomson Hospital, Ever Link Fertility, and IVF Bridge Fertility Centre.
The MIRI® TL is a time-lapse monitoring device for embryo development. It is optimized for clinical and IVF procedures as it is designed to support existing work and quality assurance routines. This value- added treatment holds the most unique incubation environment with the market's most secure and safe procedures. It has a digitalized documentation for data export. This incubation system also provides predictability in the daily handling and is currently the market's lowest cost of ownership.
The webinar is one of a series of webinars Esco Medical intends to conduct across the globe.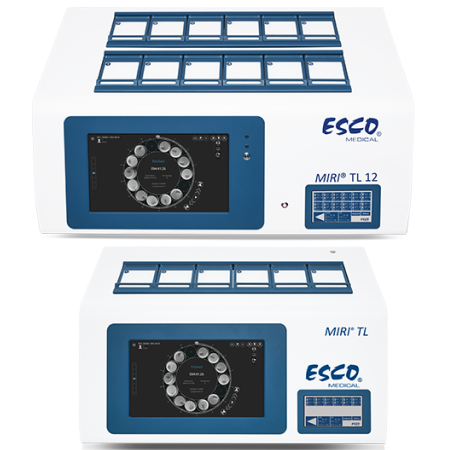 MIRI® Time-Lapse Incubator
Features:
Completely independent chambers

Time-lapse monitoring

Heated lid

Fast temperature and gas recovery

Superior gas system

Easy external gas and temperature validation

User friendly interface

MIRI® TL Data Logger

Continuous pH monitoring

MIRI® TL Viewer software and MIRI® TL Data Server