Obtaining Successful IVF Outcomes with the MIRI® II Multiroom Incubator
---
In vitro fertilization (IVF) clinics optimize multiple factors to achieve successful IVF outcomes, several of which are patient-related and others are manageable by IVF incubators. Esco Medical's MIRI® incubators work on a multiroom design that provides a stable environment for embryos even when there are lid openings on neighboring chambers. Below are some of these factors that laboratories consider to have successful outcomes.
Patient-related Factors
Female age, egg quality, and quantity – Patient age particularly that of the woman is an important factor that gives embryologists and IVF clinicians a general idea of the quality and number of eggs that are expected to be retrieved from the woman.
Sperm Quantity and Quality – Sperm count, mobility, and abnormality is one factor that is taken into account by clinicians to ensure positive fertilization of the egg cells. Although this is easily manageable with sperm preparation procedures and performing Intracytoplasmic Sperm Injection (ICSI) unless there is no sperm present in the ejaculate (azoospermia) even after performing Testicular Sperm Extraction (TESE).
Hormone levels – This gives clinicians an idea of how to approach a patient's ovarian stimulation workup to retrieve quality eggs and prepare the endometrium for implantation during embryo transfer.
Female Reproductive Tract – This factor gives clinicians an idea of how to navigate on the implantation site during embryo or blastocyst transfers especially for cases with patients that have tube blockages.
IVF Incubator manageable factors
Temperature – Optimum temperature that has been found to support human embryo development has been known to be near body temperature or 37 C.
CO2 and O2 concentration – Throughout the years, it has been observed that suppressed O2 levels have been beneficial to human embryo growth compared to cultures under atmospheric O2 concentrations.
pH – pH is also an important factor that makes sure that the media used is at the right pH (7.2-7.4) suited for embryo culture.
Having these in mind, an IVF laboratory needs state-of-the-art equipment to help them achieve successful embryo cultures for their patients. Esco Medical has two kinds of incubators under the MIRI® line that can help our IVF clinicians achieve this goal.
MIRI® Multiroom Incubator
The MIRI® Multiroom incubator is a dry IVF incubator that has six (6) independent chambers that prevent cross-contamination as well as eliminating disturbance whenever there is a lid opening in the neighboring chambers.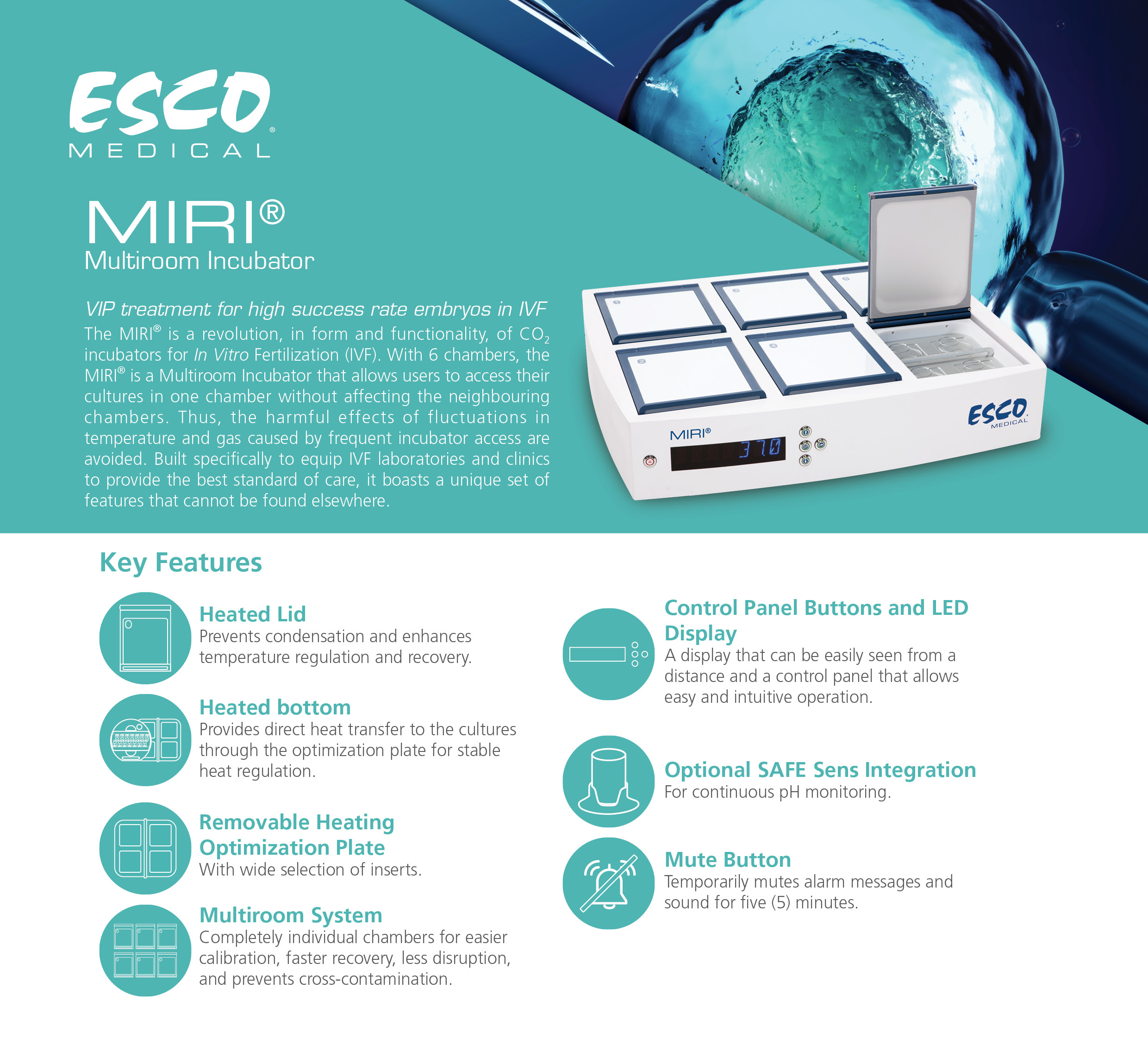 MIRI® II Multiroom Incubator
The MIRI® II Multiroom incubator is based on the base MIRI® model but it has smaller chambers and works on the one chamber - one patient system. It has twelve (12) chambers that are completely independent of each other.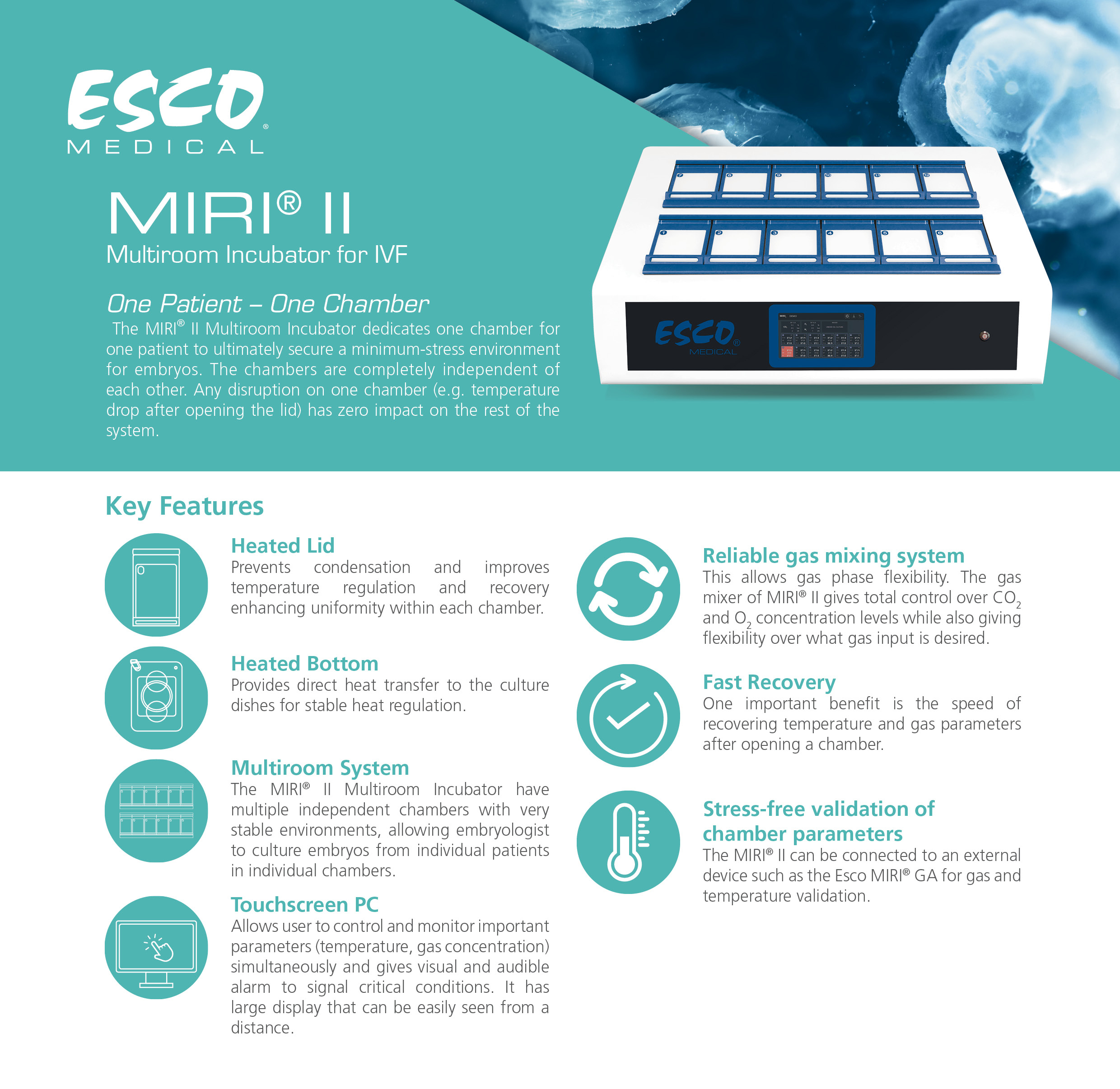 Specification comparison between MIRI® and MIRI® II
| | | |
| --- | --- | --- |
| Specifications | MIRI® | MIRI® II |
| External Dimensions(W x D x H) | 700 x 580 x 160mm | 739 x 560 x 194 mm |
| Weight | 35 kg | 45kg |
| Power Consumption | 280 W | 530 W |
| Number of Chambers | 6 | 12 |
| Temperature Recovery | <1 min | <1 min |
| Temperature Control Range | 25 – 40 C | 25 – 40 C |
| Gas Recovery | <3 min | <3 min |
| Gas Recovery | <3 min | <3 min |
| CO2 Gas Consumption | <2 L/hr | <2 L/hr |
| CO2 Control Range | 1.9 – 10.0 % | 1.9 – 10.0 % |
| N2 Gas Consumption | <12 L/hr | <12 L/hr |
| O2 Control Range | 5.0 – 20.0 % | 5.0 – 20.0 % |
| HEPA/VOC Filter | Yes | Yes |
| UV-C Light (254 nm) | Yes | Yes |
| External Validation | Yes | Yes |
| Data logging Software | Yes | Yes |
| SAFE Sens Integration | Yes | Yes |
Multiroom Design
The Multiroom IVF incubator design of Esco Medical helps in maintaining the temperature, O2, and CO2 gas concentrations at a constant setpoint to allow human embryos to develop, fully mimicking their natural environment in the uterus of a woman. It has been observed that frequent exposure of human embryos to varying environmental parameters leads to poor embryo growth, fragmentation, and less blastocyst formation. This design helps in maintaining these parameters even with the opening of chambers during routine manual microscopy for checking of embryo stage during development every day.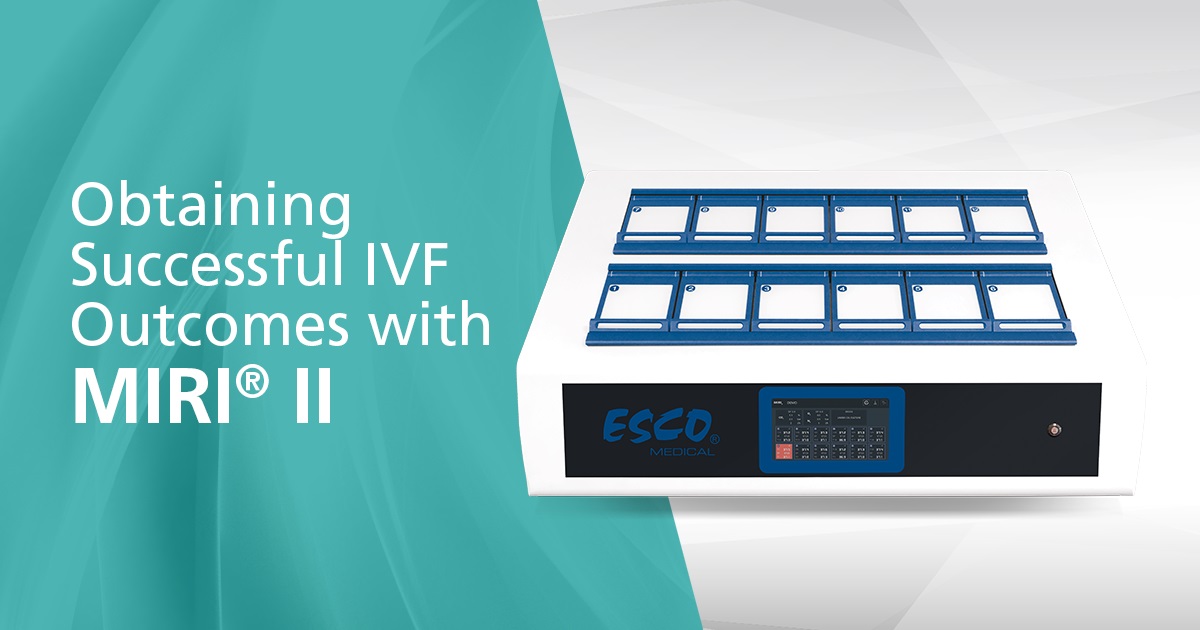 Heating Optimization Plates
The heating optimization plates or dish inserts make the MIRI® II IVF incubator very easy to clean and maintain. The dish inserts of MIRI® II are compatible for use of Nunc® and Falcon® culture dishes which are some of the common brands that IVF clinics use today. Compared to the dish inserts for the MIRI®, the design of the dish inserts of the MIRI® II is a quarter or ¼ of those for the MIRI® making it possible to dedicate one chamber for one patient, giving embryologists' added safety for the embryos during handling and help in preventing cross-contamination. This design also makes the MIRI® II perfect for IVF clinics using mild-stimulation protocols because these yield fewer eggs than conventional stimulation protocols.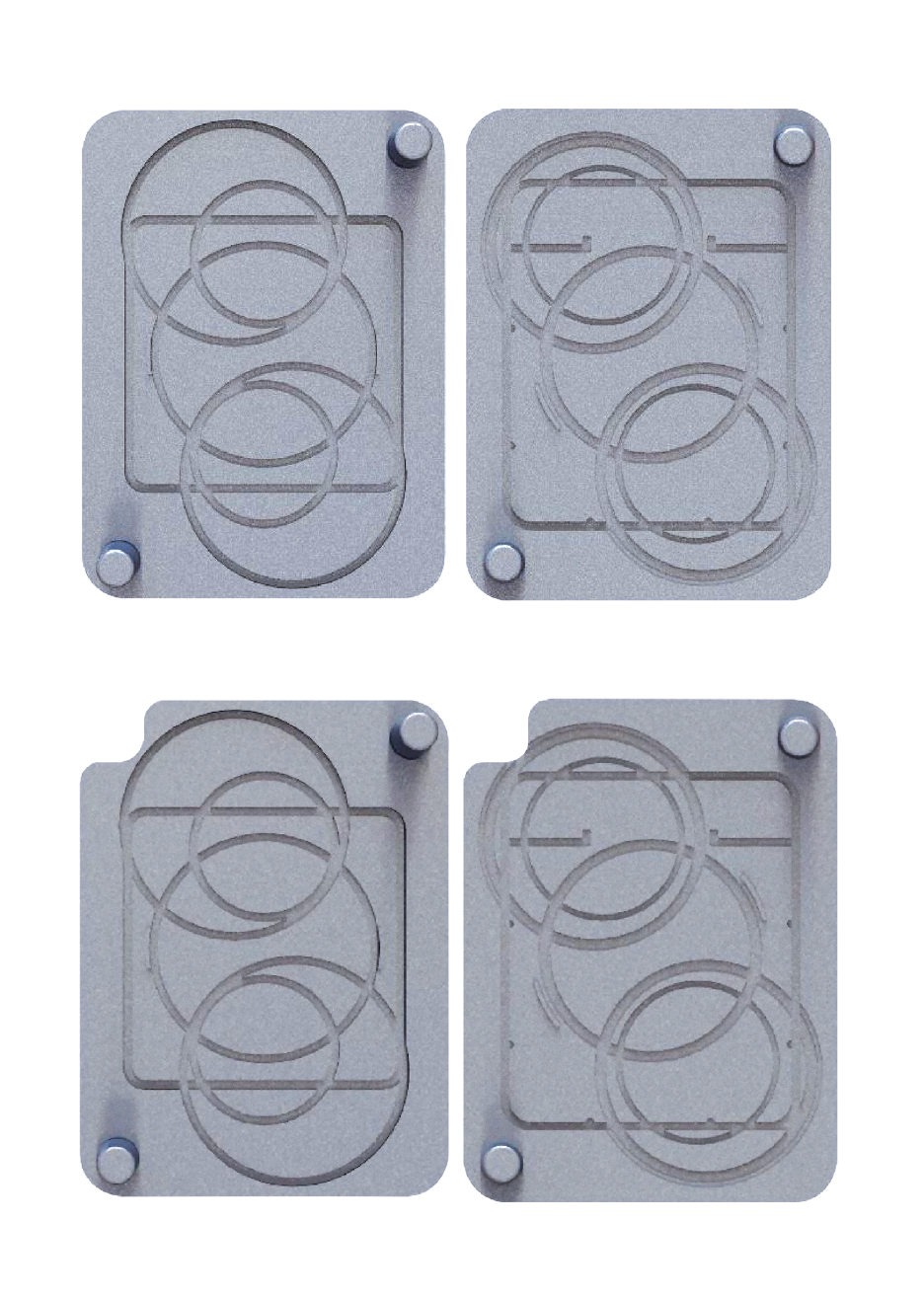 It is imperative for IVF clinics to have equipment that can bring about the best embryo culture results for the patients because this not only helps the reputation of the clinic and its clinicians, but it also helps in successfully decreasing infertility rates worldwide. Esco Medical continuously aims to decrease these numbers by providing innovative solutions and state-of-the-art IVF equipment like the MIRI® II multiroom incubator.